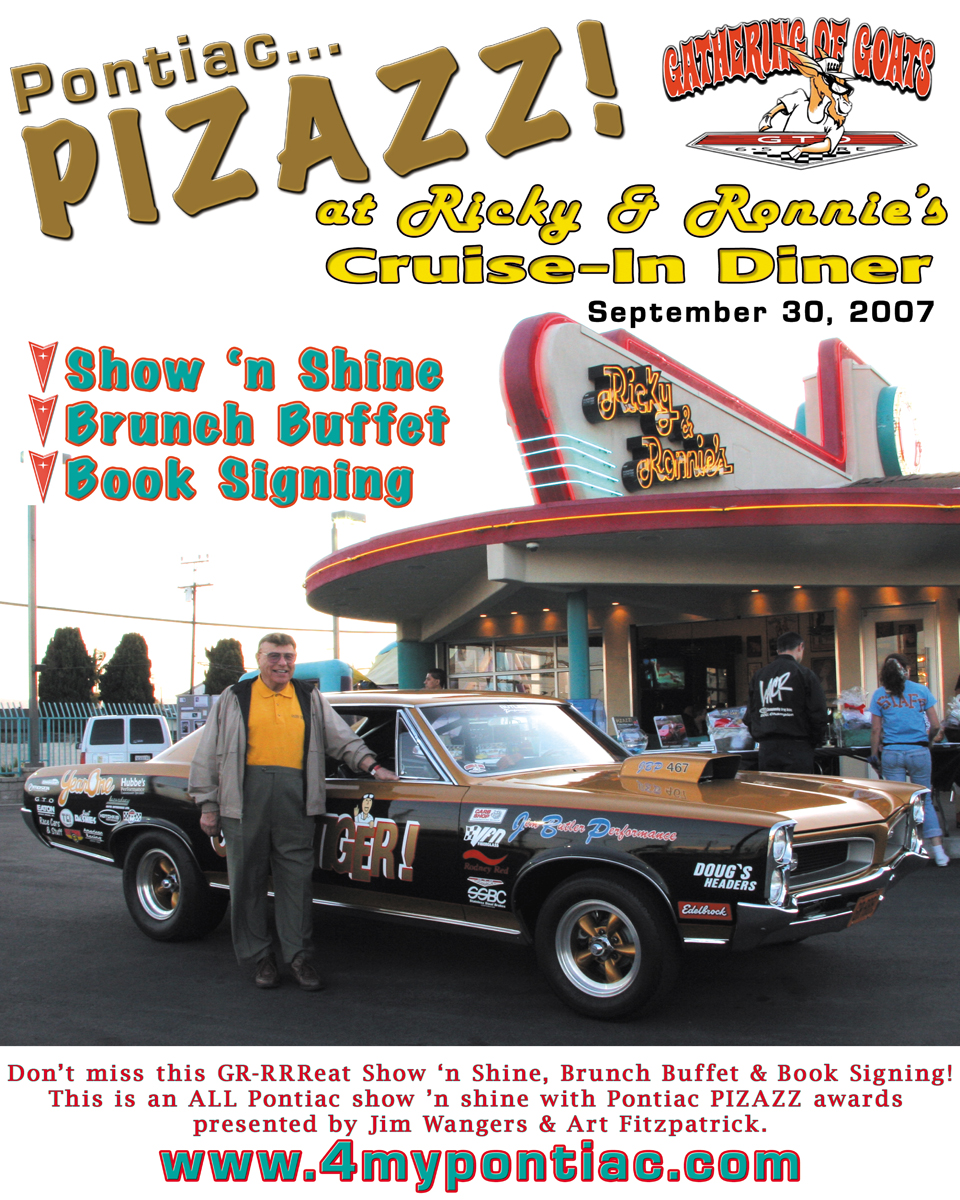 Join Jim Wangers & Art Fitzpatrick for the Southern California book signing premier of their NEW book Pontiac PIZAZZ on Sunday, September 30th at Ricky & Ronnie's Cruise-In Diner in Torrance, California. Ricky & Ronnie's Cruise-In Diner is one of Southern California's most popular cruise-in venues offering a fantastic spot for Pontiyakin'. The Ricky & Ronnie's Clubhouse and preferred parking has been reserved for Pontiac enthusiasts Show 'n Shine registrants ONLY!
Pontiac PIZAZZ at Ricky & Ronnie's is a Sunday brunch Show 'n Shine. The event will kick-off at 10 AM with a scrumptious Buffet Brunch. The buffet will include assorted rolls & muffins, fresh fruit, scrambled eggs, bacon & sausage, biscuits & gravy, breakfast potatoes, pancakes, oatmeal, juice, coffee and tea. Your Show 'n Shine registration cost of $15 includes the buffet brunch! Additional brunch tickets are available for the rest of your group at $15 each. Premium parking is limited so register early to reserve your space!
This is a Pontiac PIZAZZ party! In celebration, all cars registered for the Show 'n Shine will be entered into a drawing for some GR-RRReat Pontiac PIZAZZ! Jim and Fitz will present four lucky owners with a Pontiac PIZAZZ "Pick of the Day" – awarding each an autographed book! Additionally, several autographed prints of the fabulous artwork from the book will awarded.
Pontiac PIZAZZ at Ricky & Ronnie's is being co-hosted by the Southern California Gathering of Goats. The SCGG has organized a Saturday (9/29) night dinner cruise originating from the Torrance Marriott – home to many of the early GTOAA Western Regional Meets. The procession of Pontiacs will cruise on over to Hof's Hut for some good eats. No exhibition of speed (Bill Baker) is anticipated. After dinner we will all cruise back to the Torrance Marriot where the SCGG will have a hospitality suite open to all Pontiac enthusiasts. Bring your Pontiac and gather with friends – old and new for some good ole Pontiyakin'.
The SCGG has established a special hotel rate at the Torrance Marriott for Saturday night. Hotel reservations can be made by calling Marriott Reservations at 800-228-9290. Be certain to ask for the GTO Association of America group rate. The rate is $109 per night. Room availability at this rate is limited so CALL TODAY!
Pontiac PIZAZZ at Ricky & Ronnie's is certain to be an affair to remember! Brunch reservations are an absolute must – not to mention that premium parking at Ricky & Ronnie's Clubhouse is limited – reserve your space today! Registration is available online at
www.4mypontiac.com
or for more information call 310-465-0603.