Quote:
Originally Posted by
Dragncar
7.80 is quite a ways from 7.65 I remember they through out a 7.56 number too.
When Marcella said it was a lateral move going from E heads to CVs, it seems he was right.
Kinsler is running 7.70 something with old Gabby E heads in a small tire car to boot.
Kinsler went 7.70's with a car that was not set up for quarter mile. I believe he ran out of gear and clicked it off around the 1000' mark.
He's also stock suspension and on a 275 DR.
__________________
Special thanks to:
http://procharger.com/
http://rhodescustomauto.com/
http://luhnperformance.com/
http://csucarbs.com/
Nitrous is like a hot girl with a STD...you want to hit, but you're afraid of the consequences.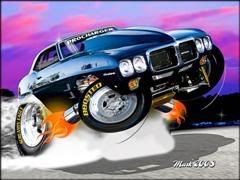 Fastest Stock Suspension & Blow-thru Pontiac in the country
8.44 @ 166.97 (@3465#s)
1.38 60', 5.51@ 132.83-1/8th mile-
DA 3800'