-
Posting Picture
(
http://www.pontiaczone.com/forum/forumdisplay.php?f=583
)
| | |
| --- | --- |
| mechanickeith | 11-23-10 01:13AM |
---
Video of my 61 Tempest Cp.

Short video. My Pitt I had to put down several weeks ago. I think this was shot about 2 years ago. Short walk around video of my 61 at work. This is before I De-tuned the motor. I pulled the 4 bbl off & put a different cam & head on so it would have more fuel economy. I have the rpms up around 875-900 to smooth out the motor. Has 3 tube hedder with 2.5" pipe all the way out the back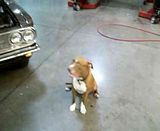 All times are GMT -3. The time now is

12:52PM

.
Powered by vBulletin® Version 3.6.8
Copyright ©2000 - 2020, Jelsoft Enterprises Ltd.
2001 - 2007 PontiacZone.com
Page generated in 0.03465 seconds with 10 queries