- -
68' qtr window
(
http://www.pontiaczone.com/forum/showthread.php?t=10373
)
---
68' qtr window

I think my qtr window came off the track. What's involved in getting the trim panel panel off and getting the window back on the reg track ? Do I have to pull out the rear seat to get to all the trim panel retainers ?
| | |
| --- | --- |
| flynbrian | 07-14-05 02:39PM |
---
HI! I dont know a whole lot about fixing your window but I do know that lubrication can be a big factor in it coming apart. Valco Cincinnati Consumer Products Inc. makes a spray lube called Gellube. I used it on the Quarter windows of my 69 Firebird and it has solved all problems. I used to have to help the windows as they would bind and be scary to operate.

I took everything apart and sprayed the Gellube on the entire mechanical assembly very liberally. It penetrates then sets up as a gell....The really neat thing is it is synthetic and it never dries up! I did my car almost 3 years ago and the windows still work like brand new! This stuff is designed for actual new engine assembly so window regulators are light work for it....Dont use WD40 as it will be gone by the time you reinstall the panels, as will most other lubes and the white lithium the factory used turns to a crusty dried out mess too. So check this stuff out....Part number 710XX756 at Valco 1-800-788-3865 ask for Margaret...Tell her flynbrian sent you.
---
I'm pretty sure you will have to remove the lower back seat to get to the rear panel to remove it?Try taking the arm rest and window crank off first to see if you have to take the back seat out too.I'm not sure if there are any screws that low on the rear door panels,but you will find out if it is still held tight on to the metal covering.There should be a thin paper cover and or plastic cover behind the panel that comes off so you can see inside the rear panel to fix the problem.I believe Ames and PY has replacement guides and parts for your year and make of Pontiac.You will need a good light to see inside the rear glass area since it is a small and tight area to work in.You can also push the window crank back on the grooved arm to raise and lower the window to see where the problem is.
---
Yes, you will have to remove the lower seat to get the trim panel off. I hope you don't have to replace the window or regulator, because it is a mutha to get the quarter windows out.
---
I just had the same problem. My LR qtr window just came partially out of the track.
[rolleyes]
Here are the screw locations. The lower ones guarantee that the seat has to come out!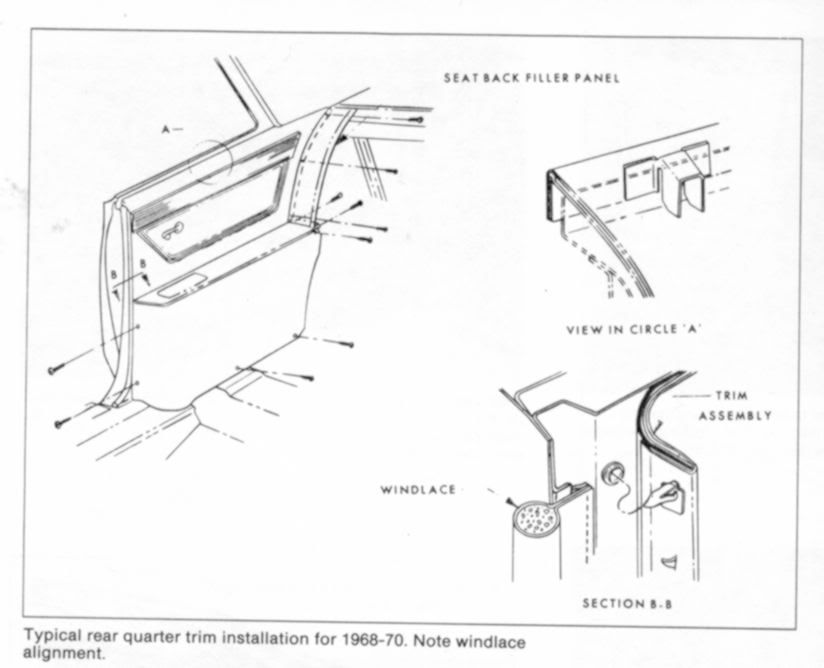 (Credit goes to paul Zazarine and Chuck Roberts, because this photo cam e out of their GTO resto guide.)
---
That is a great book, btw. For those restoring A-bodies I highly recomend one.
All times are GMT -3. The time now is

02:38PM

.
Powered by vBulletin® Version 3.6.8
Copyright ©2000 - 2019, Jelsoft Enterprises Ltd.
2001 - 2007 PontiacZone.com
Page generated in 0.03887 seconds with 10 queries